Welcome to the Entrepreneurs Institute where International Transformation Network pioneers discover and apply biblical principles to instill God's healing power into the marketplace.
The TEI Vision: 
Every Member of the Institute Successfully Pioneering Transformational Enterprises
The vision of the Transformation Entrepreneurs Institute (TEI) is to disciple, coach and nurture entrepreneurs into transformational world changers.
Goals:
To offer world-class programs that empower entrepreneurs to transform their businesses, industries, cities and eventually the world. TEI offers foundational and advanced seminars on transformational business through Transform Our World™ University. It also develops and publishes case studies and presentations demonstrating successful strategies for implementing transformational principles and offers forums for members to share and learn from one another.
Institute Programs:
The Institute is offers a range of program initiatives as depicted in the illustration below.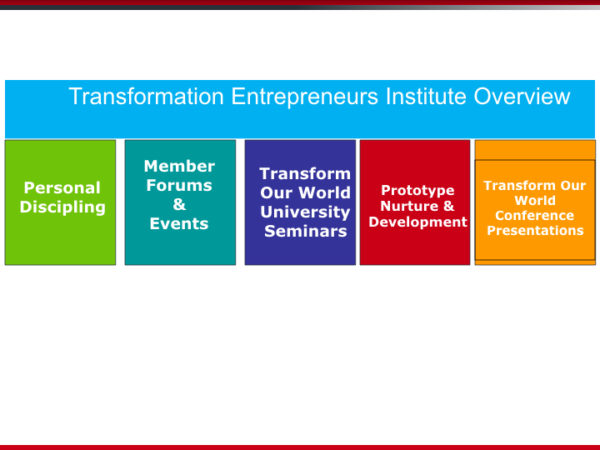 We try to connect members with an experienced leader of a transformational prototype for mentoring. Members also disciple one another through the online forums and case studies. Check the conference agenda for TEI presentations sessions taking place during the Workshop (or Networking) time slot.
New for 2016
TEI has launched two seminars on TOW University. An eight (8) week foundations course introduces partipants to the essential building blocks of transformation course. The advanced seminar takes participants into a deep dive on key best practices of transformational entrepreneurs. Both courses feature a faculty of experienced entrepreneurs who have built successful transformation enterprises.
Who Should Participate?
Members of TOW Network
Graduates of The School of Transformation
Entrepreneurial Individuals with Strong Start-up Idea or Existing Business
How to Get Involved:
All TOW network members can access presentations and TEI forums. To become a participating member of TEI and be part of a live forums email Kevin Mitchell at tei@transformourworld.org
TEI Core Team
Learn More
Disruptive Innovators
Presented by Derk Maat
Transformation Entrepreneurs Institute Overview
Presented at ITN Leadership Summit June 2014
Vision & Overview of TEI — PPT